Previously posted a dog at home name
Blackgon
, there is another male dog as well - Doggy, which is slightly elder than
Blackgon
. I like Doggy more than
Blackgon
, at least he lets people touch him, hehehe...
Let's see what he likes to do at gate:
Doggy likes to stand like this
Then slowly lean on the gate
So enjoy
What is he doing?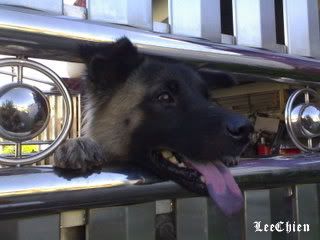 He's actually just likes to look all the happenings around..
Doggy is a dog full with curiosity, even you give me a tiny toy, he can play for whole day... I really like Doggy alot, hehehe... Started to miss him, but i'm going back to see him soon though.. hope he still recognize me..