Sounds weird but still would like to say:-

to myself.
Ya, today is the day -
18th April
, my birthday.
What am i doing now? I am suppose celebrating my birthday with friends at home now but they 'FFK' (fong fei gei) me. Pity huh? Still ok actually, coz i just came back, kinda tiring of cleaning the whole house alone. Now it's raining drizzlingly outside. Very cool, comfortable and quite, a feeling that i like alot..
What's happening today? My blog's traffic hit 20000 since the first day i blog, hahaha..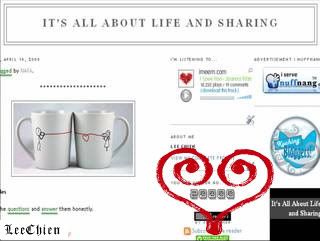 Another good news is, my college classmate - WINNIE has given birth to a baby girl this afternoon, who is same birthday with me, hahaha... Congratulations to her!
I have lots of pictures to post but my phone cable at my ONG's house, so post latest pictures. Hopefully tomorrow i can get back my phone cable.
Ah,
Apple
and
Alysha
also sent a parcel to my house last few days but i wasn't at home so i have to get the parcel from post office that i not yet go to get. Thank you in advance to both of you, you're so sweet!!
And thank you so much to everyone who dropped a birthday greeting in my chat box! =)